The chemical products we handle bring enrichment and happiness to society and our logistics business is the core of the chemical industry. We take pride in this and fulfill our social responsibility.
We aim to be widely supported by society as an excellent company through fair and sensible business conduct with independence and self-responsibility, based on "ethical conduct", "compliance with the law" and "commitment to safety".
Corporate Governance
Basic Policy
We are committed to ethical business conduct, compliance with the law, and safety and quality. We respect diverse personalities and individuality, and build sound and fair relationships with all stakeholders, including customers, business partners, employees, and shareholders.
In order to achieve these goals, we continue to strive for optimal corporate governance that enables us to make sound, transparent, fair, and prompt decisions.
Cooperate Governance System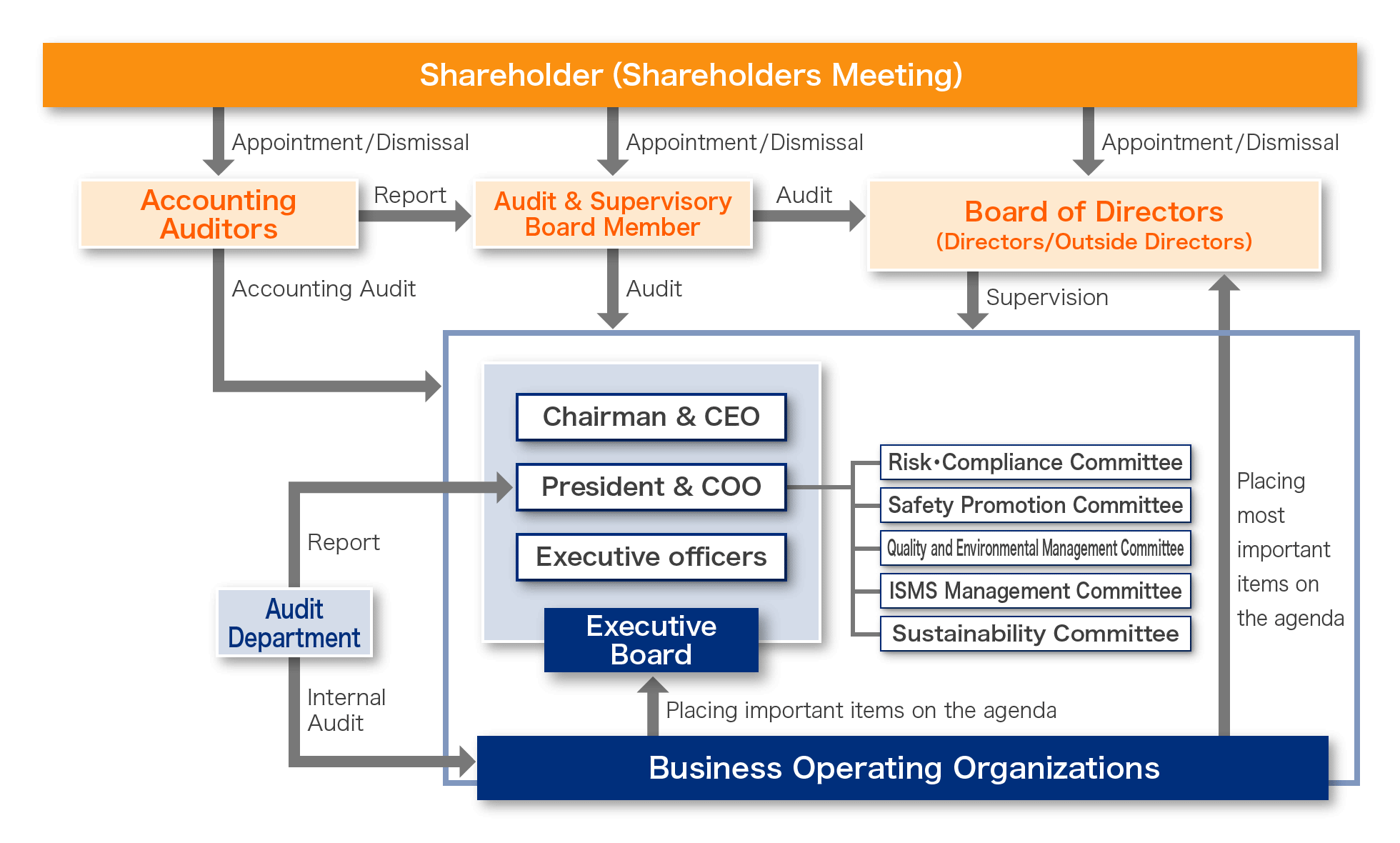 ■Board of Directors
The Board of Directors as the decision-making body for management, decides important business execution, management strategies and policies. It supervises the execution of business by directors and is responsible for sound business operations, including the establishment of internal control systems.
■Executive Board
Executive Board deliberates regularly on matters other than those to be resolved by the Board of Directors for the purpose of prompt business execution. The results are reported to the Board of Directors.
■Audit & Supervisory Board Member
Audits the business execution of directors and executive officers. It also audits whether appropriate management is being carried out in terms of compliance, accounting, etc.
■Audit Department
Verification and evaluation of the legitimacy, efficiency, economy and effectiveness of business operations from a standpoint independent of business execution departments, and reporting the results to the Board of Directors, etc. Assist the Audit & Supervisory Board member in the execution of their duties in accordance with their instructions.
■Internal Control, Legal Affairs, and Risk Management Department
The Internal Control, Legal Affairs, and Risk Management Department is responsible for the establishment, operation, and management of the NRS GROUP's internal control system, as well as information gathering and analysis on management risks and overall management of corresponding initiatives.
BCM
NRS GROUP, having the top share in the industry in the logistics of chemicals and hazardous goods, believes that we have a social responsibility to continue our business at whatever time and at whatever place.
We have a business continuity management (BCM) system to ensure the recovery and continuation of business operations even under the risk of large-scale disasters and infectious diseases.
BCM System

Main Activities
1

Planning and reviewing of Business Continuity Planning (BCP) consecutively

2

Training

3

Storing equipments, food, water for emergency
4

Preparing for emergency communication tools

5

Backup for system and database
Information Security
ISMS Management Committee meetings are held once a year to ensure and further improve information security.
Acquisition of ISO27001 certification
We have acquired ISO27001 certification for our information systems division, which is an international standard for information security aimed at ensuring the confidentiality, integrity, and availability of information assets.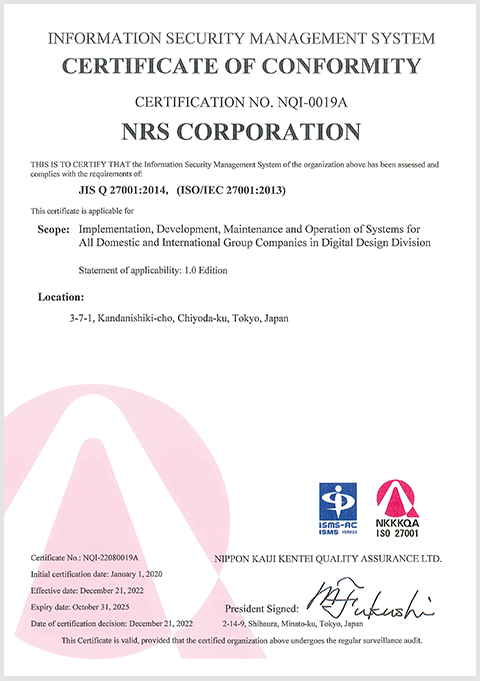 Compliance
The Compliance Committee is held to promote compliance throughout the company, including group companies. We aim to achieve zero compliance violations by adhering to the NRS GROUP Code of Ethics.
● Regularly review of the Code of Business Ethics
● Trainings on laws and regulations
● Conduct e-learning
● Installation and use of an internal reporting desk
● Strengthen cooperation with Assist the Audit & Supervisory Board and Audit Department
Compliance Adherence
In accordance with our Corporate Governance Basic Policy, we will adhere to compliance. We prohibit actions that are considered illegal and socially unethical, such as corruption, bribery, conflicts of interest, fraud, money laundering, and anti-competitive practices, and we will eliminate any associations with anti-social forces.