We will use digital technology to provide new value to chemical manufacturers, trading companies and the hazardous materials logistics industry.
We believe that new logistics services can bring significant changes.
Features of the Service
1. We provide realization of logistics DX through the synergy of [logistics service] x [logistics data] x [software].

2. We provide digital service that will match your needs by listening your requests.

3. We provide a platform service which is specialized in hazardous material logistics.
Standard functions are free of charges
Dangerous goods Logistics platform
Services for Chemical manufacturers and trading companies
■Logistic Data analysis
The first thing we need to do is to visualize the current situation.
We have accumulated high quality data along with the cargo we receive, and we are able to analyze inventory (visualize excess stock and defective stock) and delivery efficiency.
We can propose ways to improve logistics efficiency based on a variety of analyses and promote periodic reviews if needed.
■Improving your business efficiency
Using information like shipping status and inventory count, we can improve your operational efficiency in a series of operations such as order-taking and logistics arrangements, as well as inventory replenishment.
In addition to inventory replenishment, we use software technology to improve your operational efficiency.
In addition to providing software, we can also propose a combination of software and logistics services.
■Helping to improve supply chain efficiency
By using software to distribute data, we support your company's efforts to improve customer satisfaction, reduce inventory, and shorten lead times, thereby contributing to greater efficiency.
■Application specialized for hazardous material (chemical) logistics
The system is equipped with functions specialized for hazardous material logistics, for example alert functions that are aware of laws and regulations.
We provide a software that can be implemented as a pioneer in chemical logistics industry.
Collaborative efforts in the hazardous materials (chemical) logistics industry
■Sharing Dangerous Goods Logistics Assets
Why not use your assets for higher efficiency? If we can share our assets in the software and improve utilization, we can create a Win-Win situation in the industry.
■Using DATA to connect logistics companies
More efficient processing is possible by shifting to data-based communication instead of conventional fax and e-mail.
This will help solve social problems such as labor shortage and the aging of drivers.
We can help you by providing not only data, but also consultation for improving your operational efficiency.
SOLUTION
SOLUTION 1

Container management and dynamic management (X-TRACK)

We can improve efficiency by connecting NRS's logistics operations with customers' workflows by implementing the dynamic management of returnable containers and the inspection management function of containers.
It is possible to visualize issues such as improving container utilization rates and simulating the appropriate number of containers using daily operations data.
・Container tracking
・Periodic container inspection management
・Analysis of operating rates
・Logistics arrangements and workflows
・Creation and management of import/ export documents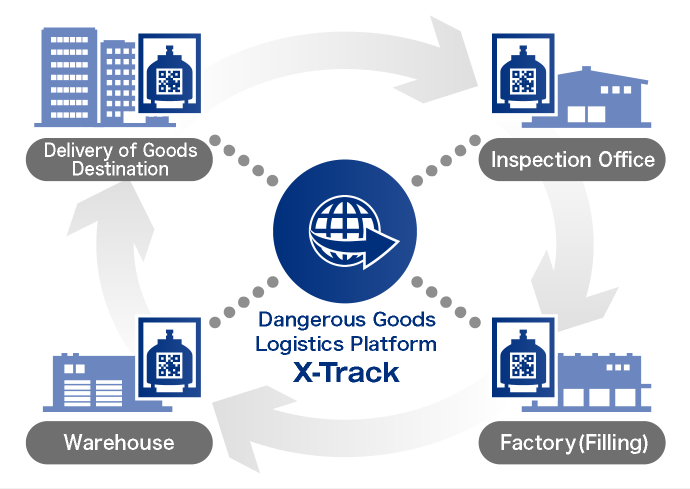 SOLUTION 2

Warehouse availability information & matching (AnyWareHouse)

This system is used to match information on the availability of dangerous goods warehouses with cargo that shippers want to deposit.
We support the development of shippers' businesses by quickly providing matching warehouses.
We also provide operational support to hazardous materials warehousing companies so that they can use their assets more efficiently.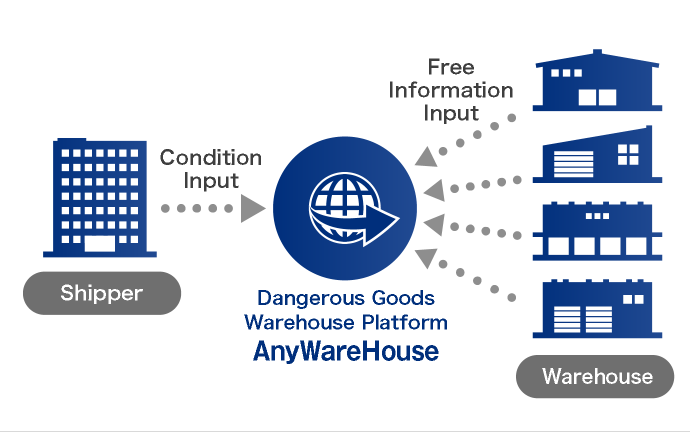 SOLUTION 3

Digital Forwarder

E-mails and faxes are often used to communicate about bookings
however, we aim to contribute to the efficiency of our customers' supply chains by enabling speedy and accurate logistics arrangements by using the Web system.
We can make it possible to visualize the availability of trucks, etc., which tend to be obscure, to realize smart logistics for dangerous goods.
・Web bookings
・Tracking
・Chat Inquiry
・Document sharing
・Web Billing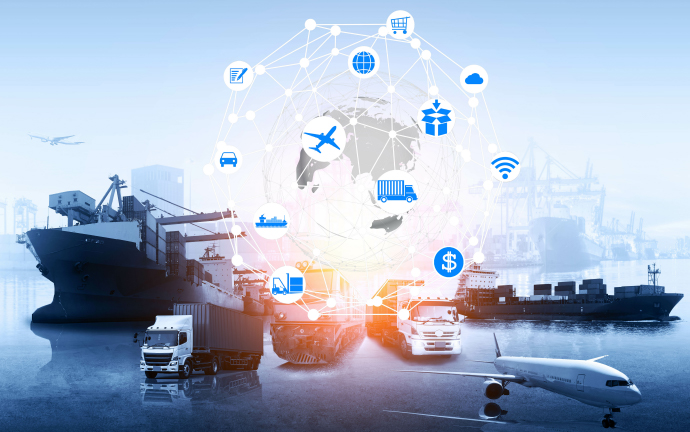 INQUIRIES
We can answer to various issues regarding Dangerous goods logistics don't hesitate to tell us about your problems.
Please send your inquiries to the below email.