Environmental impact is inevitable in the logistics business. NRS GROUP takes this fact very seriously and continues to strive for how we can reduce the burden and realize an environmentally friendly and sustainable business.
Environmental Management
ISO 14001 certification and green management acquisition status are available from the ESG data in the Sustainability Report.
Our policy is to conduct purchasing activities that adhere to legal requirements, prioritize environmental considerations, and uphold principles of integrity and ethics.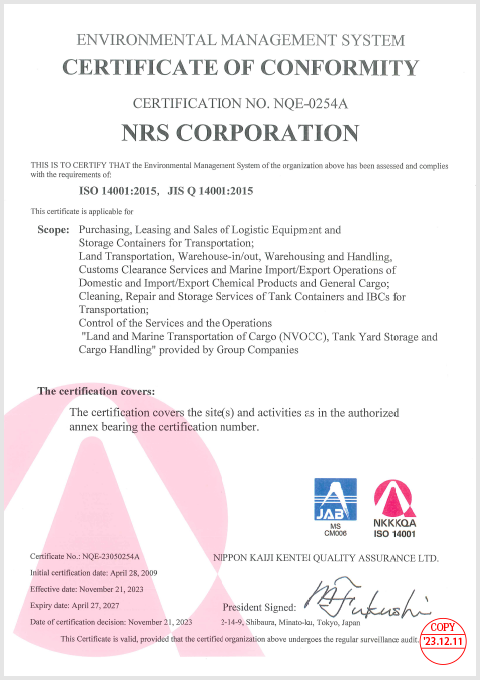 Introduction and Use of Returnable Containers
NRS GROUP has introduced overseas logistics mode, and made efforts to relax weight regulations and to improve safety technologies. Through the internationalization of logistics and the realization of highly efficient mass transportation, we contribute to the environment and society.
● Introduced tank containers and realized transport in large-sized containers
● Achieved deregulation of loading weights by developing 24 ton and 30.48 ton chassis
● Developed specialized chassis with roll-over prevention device for loading tank containers
● Realized the transportation of fluorochemical raw materials by tank containers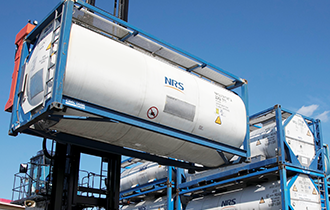 Through our returnable containers that can be re-used, such as ISO tank containers, IBCs, and mini UN portable tanks, we strive to improve the efficiency of logistics and save various resources.
<Benefits of Returnable Containers>
● Capable of carrying greater volume per container (up to 26,000 liters per tank)
● High level of safety in accordance with IMDG standards
● Enable intermodal transportation between various modes of transportation including sea vessels, trucks, and rails.
● No need for auxiliary packing materials.
Our cleaning depots are equipped with the latest equipment to ensure the preservation of marine resources and air quality.
Promotion of Modal Shift
By shifting the modes of transportation from trucking to mass transportation by rail and sea, we are contributing to the reduction of environmental impact by reducing CO2 emissions and saving energy consumption.
In recognition of the realization and continuation of new modal shift projects, we received "The Award for Excellent Business Entities Working on Modal Shift" nine years in a row, sponsored by the Japan Federation of Freight Industries.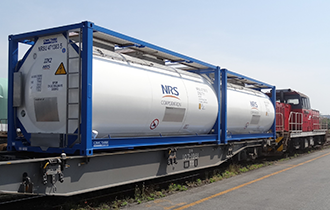 Thorough Reduction of CO2 Emissions
■Eco-driving practice
To reduce our impact on the environment, we practice eco-driving to improve fuel efficiency and reduce CO2 emissions. We also use retreaded tires.
● The use of automatic transmissions
● Change of oil at the mileage set by the Green Management Certification
● Reducing the number of fleet vehicles by replacing tank trucks with ISO tank containers
● Avoid sudden start, acceleration, and braking
● Keeping tires properly inflated
● Installation of a cooling system that operates when the engine is turned off (planned).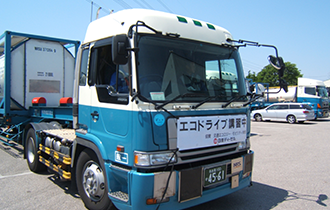 Installation of LED Lighting and Solar Power Equipment
All of our distribution centers have been converted to LED lights. The use of renewable energy is being promoted through the active introduction of solar power generation systems and green power.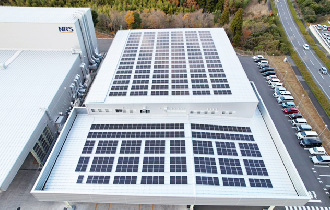 Links