Logistics is essential to connect suppliers and consumers and plays fundamental roles of industry.
Chemical products are used extensively for human healthy life – automobiles, home electric appliances, IT, healthcare, foods, energy, ..etc. On the other hand, material of chemical goods bears risky nature like "Flammable", "Explosive" or "Toxic".
We take on "Safety" and "Compliance" are of most importance for chemical logistics.

NRS employees are with diligence and spontaneous actions to provide customers high quality services and contribute to the society in the effect.
A company where employees work with pride and where we and the people we engage with find happiness. We believe that this fulfils our founding philosophy of "Like a shining diamond, to share happiness with everyone."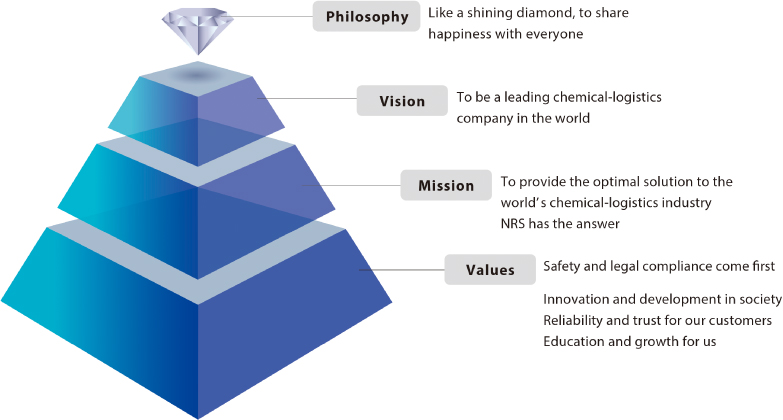 Business Philosophy
Like a shining diamond, to share happiness with everyone
A company where employees work with pride and where we and the people we engage with find happiness.
Group Vision
To be a leading chemical-logistics company in the world
We have been and will continue to lead the chemical-logistics industry by providing safe and high-quality services, leveraging our established expertise and global network.
Group Mission
To provide the optimal solution to the world's chemical-logistics industry, NRS has the answer
As a chemical logistics specialist, our mission is to provide customers with safe and efficient services, utilizing our functions and maintaining high quality standards.
Group Values
Safety and legal compliance come first
Innovation and development in society
Reliability and trust for our customers
Education and growth for us
Based on the principles of safety and compliance, we will act in accordance with these values.