As a specialist on handing hazardous chemicals and dangerous goods, "safety" is the foundation of our business and our responsibility to society. We perform a systematic and thorough safety and quality management so that each employee can predict danger and prevent accidents.
Safety Promotion Committee
To maintain and improve safety and quality, company-wide goals and action plans are formulated. These are shared with all business sites and reviewed on a regular basis.
Raising Safety Awareness Among Each Employee
Safety and quality activity plan is made at all business sites. We conduct training and drills to raise safety awareness, and we are thoroughly committed to preventing accidents.
● KY(Kiken-Yochi / predict hazard)activities
● HHK(Hiyari, Hatto, Kigakari / near miss)activities
● Various safety trainings
● Disaster drill / Rescue drill
● Safety patrol etc
We have jointly developed "Online roll call system" and encouraged the Ministry of Land, Infrastructure, Transport and Tourism for law revision.
Safety and Accident-free Awards
In addition to awarding individuals and offices that have achieved accident-free performance, we also focus on cases in which abnormalities were quickly detected and prevented. We aim to achieve zero accidents by evaluating the efforts to prevent accidents.
● Accident-free Award
● Excellent Business Sites Award
● Early Detection of Abnormalities Award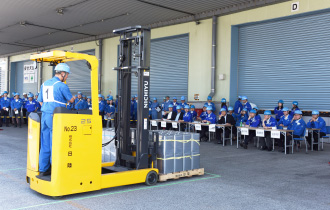 Safety Driving Measures
We have been certified as an "Excellent Safety Business Site" by Japan Trucking Association at all business sites. Digital tachographs and drive recorders are installed to record driving conditions and encourage drivers to perform their duties reliably and safely. In addition, we are actively introducing a roll over control devices on our trucks which has been jointly developed with vehicle manufacturers.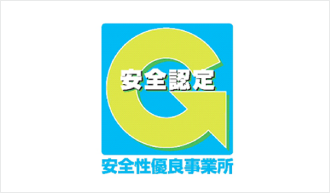 Transportation Safety Management
In accordance with the "Guidelines for Safety Management Regulation" announced by the Ministry of Land, Infrastructure, Transport and Tourism in October 2006, we are implementing transportation safety management at our 10 offices and logistics centers.
Information on "Transportation Safety Management" is disclosed as below.
Providing Services that Satisfy Our Customers
With the policy of "contributing to society by providing logistics quality and plans that satisfy customers" we are striving for fair management, strengthening compliance, and enhancing the quality of our logistics services.
● ISO 9001 certification
● Authorized as AEO Custom Brokers(authorized as the first in Japan in 2008)
● Authorized as AEO Warehouse Operators(2019)
ISO9001 certification status is available from the ESG data in the Sustainability Report.