Human Resources Management
Each employee, with their diverse personalities, is an important asset to our company. We aim to create a workplace where everyone can work with vitality and take an active role, promoting respect for diversity and inclusion, and decent work.
Diversity and Inclusion
We have systems to create a workplace that allow all employees to maximize their potential and play an active role.
Women's Participation and Advancement in the Workplace
By the end of fiscal 2030, we have set a target of at least 16% for the ratio of women in managerial positions, and are implementing systems and creating an environment that make it easier for female employees to work.
● Received 3 Star "Eruboshi" Certification based on the Act to Promote Women's Participation.
● Career advancement training and programs that specialize in women.
● Introduction of teleworking and flextime systems
● Extension of shortened working hours for childcare(up to 6th grade)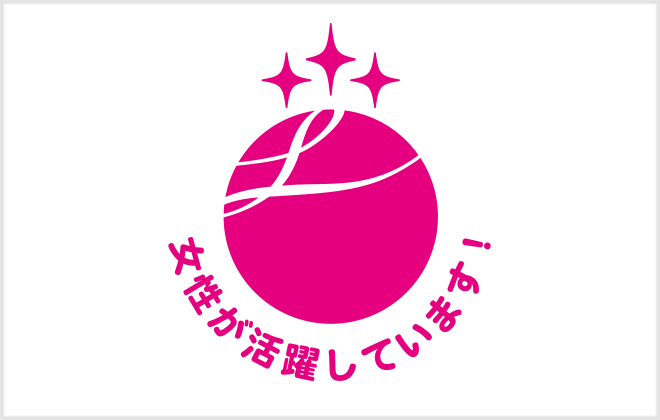 Employment and Support for Foreign Employees
Many foreign nationals, including Taiwan, China, Vietnam, France, and Thailand, are playing an active role in our company. In addition to providing a good work environment, we also provide support to help them live comfortably in Japan.
● Overseas recruitment interviews(e.g. Taiwan)
● Job applicant screenings for new hires in October in line with the timing of overseas graduates
● Career trainings and programs for foreign employees
● Support for daily living
Employment of Seniors
We are promoting the creation of a workplace where seniors are encouraged to play an active role for a long time with their extensive knowledge, experience, and skills.
● Extending the retirement age to 65
● Continuous mind-set training is conducted for employees who have reached a certain age, based on the extended retirement age.
● Established NRS VALUE CREATE CORPORATION where seniors can play an active role, adopting a flexible working system that differs from other Group companies.
Encouraging Employment of People with Disabilities
We aim to be "a company where people with and without disabilities can work together" and promote a workplace that is friendly to everyone.
● We are aiming to achieve the statutory employment rate of 2.4% in 2024
Decent Work
Promoting Flexible Work Styles and Work-life Balance
We have a system that allows employees to work flexibly, regardless of time and place, and to take sufficient time off for refreshment. We support the growth and development of each employee by encouraging their motivation and new ideas.
● Optimal mix between telework and office hours
● Hourly paid leave system
● Special paid leave(Summer Vacation, Anniversary)
● One hour early leaving system
● Re-employment system
● Leave system due to accompanying a spouse
● Child benefit payments
Monthly allowance (until age 22): 10,000 yen for the first child, 15,000 yen for the second child, 20,000 yen for the third child (e.g. full benefits: 2,640,000 yen for 1 child, 6,600,000 yen for 2 children, 11,880,000 yen for 3 children)
● Certified "Employee-friendly workplace certification system"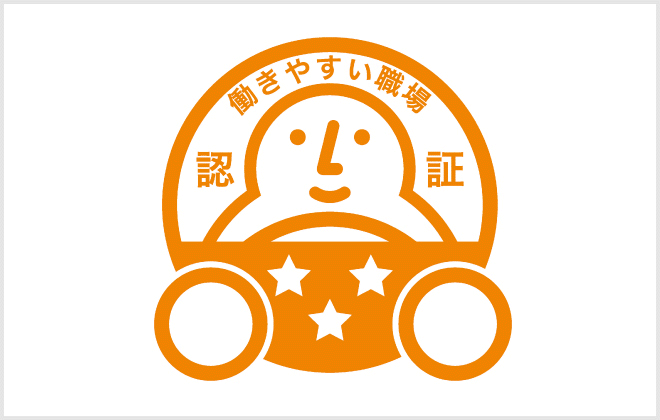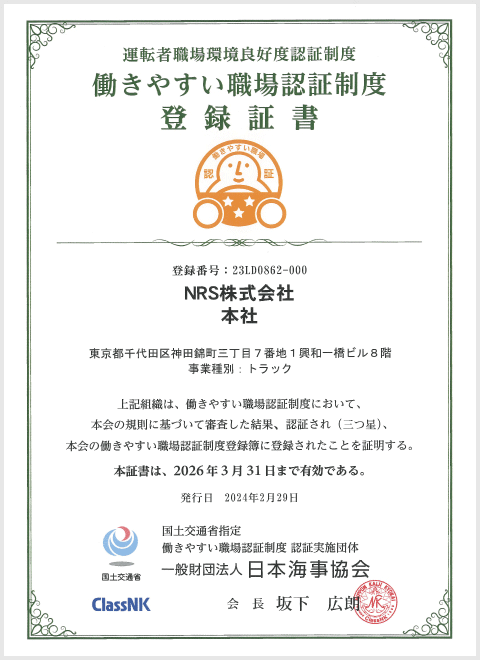 Thorough Health Management
We are promoting "health management" for employees' physical and mental health.
● Public health nurse interviews
● Employee health assessment
● Promotion of health policies
● Conducting stress tests
Human Resource Development
We believe that the growth of our employees leads to job satisfaction and the development of the company, so we are focusing on human resource development through MBO system and the enhancement of various training programs.
For more information on NRS GROUP's efforts in diversity and decent work, please visit our recruiting site.